Hi Y'all! It is November and that is always the month I am reminded that there are tons of things that I am thankful for in my life. This year November will be known as the Month of Thanks. I am going to do 30 days of Thanks here on Geeky Bloggers Book Blog! Each day I will highlight one author (and the book they wrote that moved me) and one blogger (and their awesomeness) that I am thankful for! These are not in any particular order and by no means is 30 going to cover everyone that I love.
I am thankful to all the friends that finally bullied convinced me to give Kim Harrison's Hollows series a whirl.  I really enjoyed Dead Witch Walking and have put the rest of the series on my Christmas list. I can't wait to delve into the rest of the series.  It really was a fun read!
All the creatures of the night gather in "the Hollows" of Cincinnati, to hide, to prowl, to party…and to feed.

Vampires rule the darkness in a predator-eat-predator world rife with dangers beyond imagining – and it's Rachel Morgan's job to keep that world civilized.

A bounty hunter and witch with serious sex appeal and an attitude, she'll bring 'em back alive, dead…or undead.(
I am thankful for Kristen from My ParaHangover!  She is one of my favorite people ever!  We have the best twitter conversations and always can make each other laugh.  She writes great reviews and braved the move from blogger to wordpress recently.  Everyone go tell her how great her site looks!  It looks wonderful :)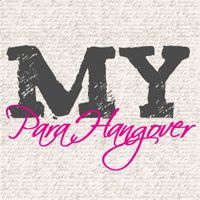 © 2012, Geeky Bloggers Book Blog.